Lion Mountain Media is able to provide you with world-class production support for shoots anywhere on the African continent.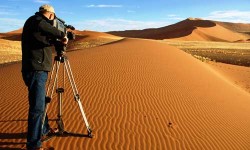 We provide facilitation services, from initial research, locations, logistics and crewing, to providing equipment, editing and final packaging. We understand that your work needs to be achieved timeously, and dedicate ourselves to helping you to meet your deadlines.
Combination director / cameraman expertise
Latest filming equipment kit and full gear technical support
Expert African wildlife knowledge
Full media back-up service & media delivery worldwide
Experienced advice on the best gear requirements for your production
Filming and travel permits, and transport
Access to unique locations
Specialist knowledge of South Africa and the African continent and its cultures
Sourcing experienced crews
Administration and facilitation of all your pre-, prod and post-production requirements
For more information, please click here to contact Peter Lamberti.